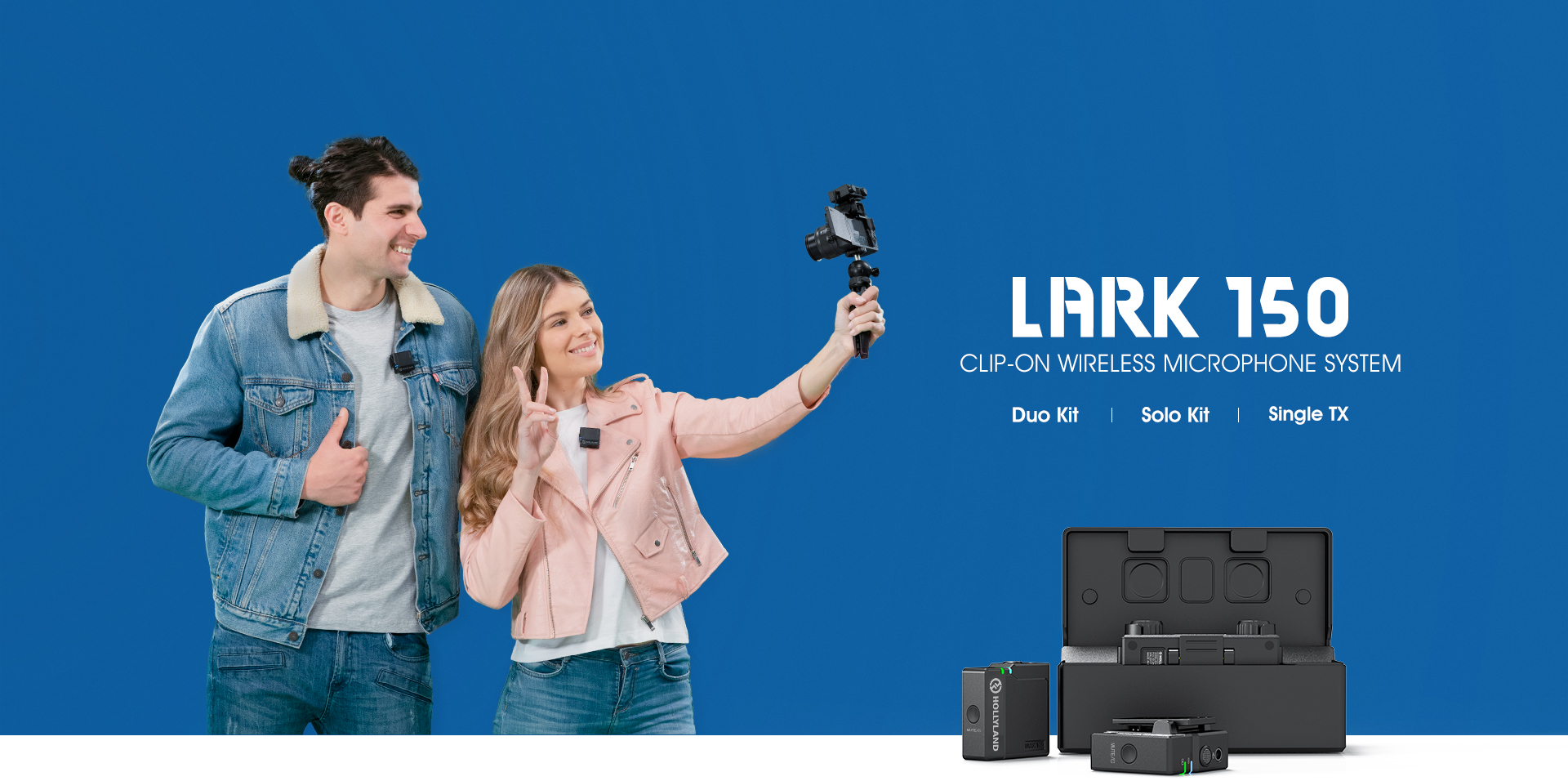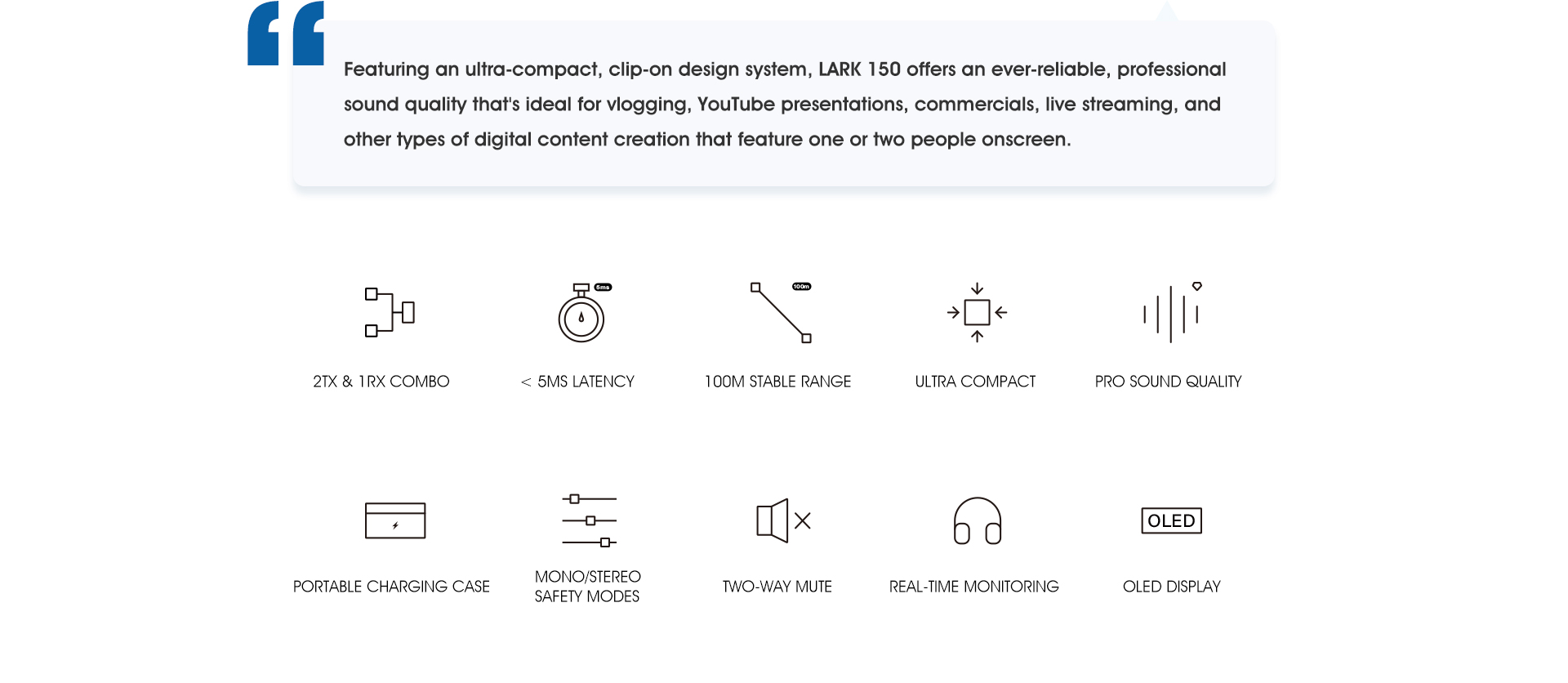 STABLE WIRELESS AUDIO TRANSMISSION
Unlock the creative potential of the LARK 150-AU with less than 5ms ultra-low latency and 100m stable wireless audio transmission. Even with the talent partially blocking the signal by turning their body away, the Lark 150-AU still reaches incredible transmission distance, effectively preventing signal drops when filming workouts and other physical activities.
ULTRA-COMPACT CONSTRUCTION
Clip the world's smallest and lightest transmitter (37*37*17.5mm, 21g) on any collar, no matter what you wear.
<5ms LATENCY & 100 METRE STABLE WIRELESS AUDIO TRANSMISSION RANGE
Different Installations and Wearing Methods supported for less than 5ms Ultra-Low Latency and 100m Stable Wireless Audio Transmission. This is ensured by the  Power-On Smart Frequency Selection feature and the 8,000 Times Per Second Frequency Hopping Spread Spectrum (FHSS) Radio Signals Transmitting Method.
PROFESSIONAL SOUND QUALITY
Record all sounds you love – anytime, anywhere.
The LARK 150-AU's anti-vibration chamber for the built-in highly-sensitive omni-directional microphone cancels noise for the best audio quality and performance. 
The LARK 150-AU's portable charge case does more than you'd think. It's a case. It's a charger. It's a pairing box. ALL IN ONE.
Just drop the Transmitters and the Receiver into the case and they're automatically paired to the Receiver… and charging.
Simple, Hassle-Free and Easy-To-Use.
MONO / STEREO / SAFETY
SWITCHABLE TRACKS
Stereophonic Microphone System with Three Audio Output Modes.
Select the right audio mode for your different jobs to get pro audio. Choose among Mono, Stereo and Safety Track.

SAFETY  IS  OUR  BUSINESS

Safety Track is Dual Channel Audio Designed for Post Audio Processing to Handle Microphone Popping or occasional audio peak distortion . The Left Channel is Mixed Audio from Both TX While the Right Channel is the Same Mixed Audio at 6dB less (-6dB) than the Left Channel.
TWO-WAY MUTE & REAL-TIME AUDIO MONITORING
Take complete control of your audio with the accessible mute function on both TX and RX and real-time monitoring of on-site recording anytime during the shoot.
< 3 Sec FAST AUTO PAIRING
Handsfree Fast Pairing Enabled Inside the Portable Charging Case, Hassle-Free and Easy-To-Use.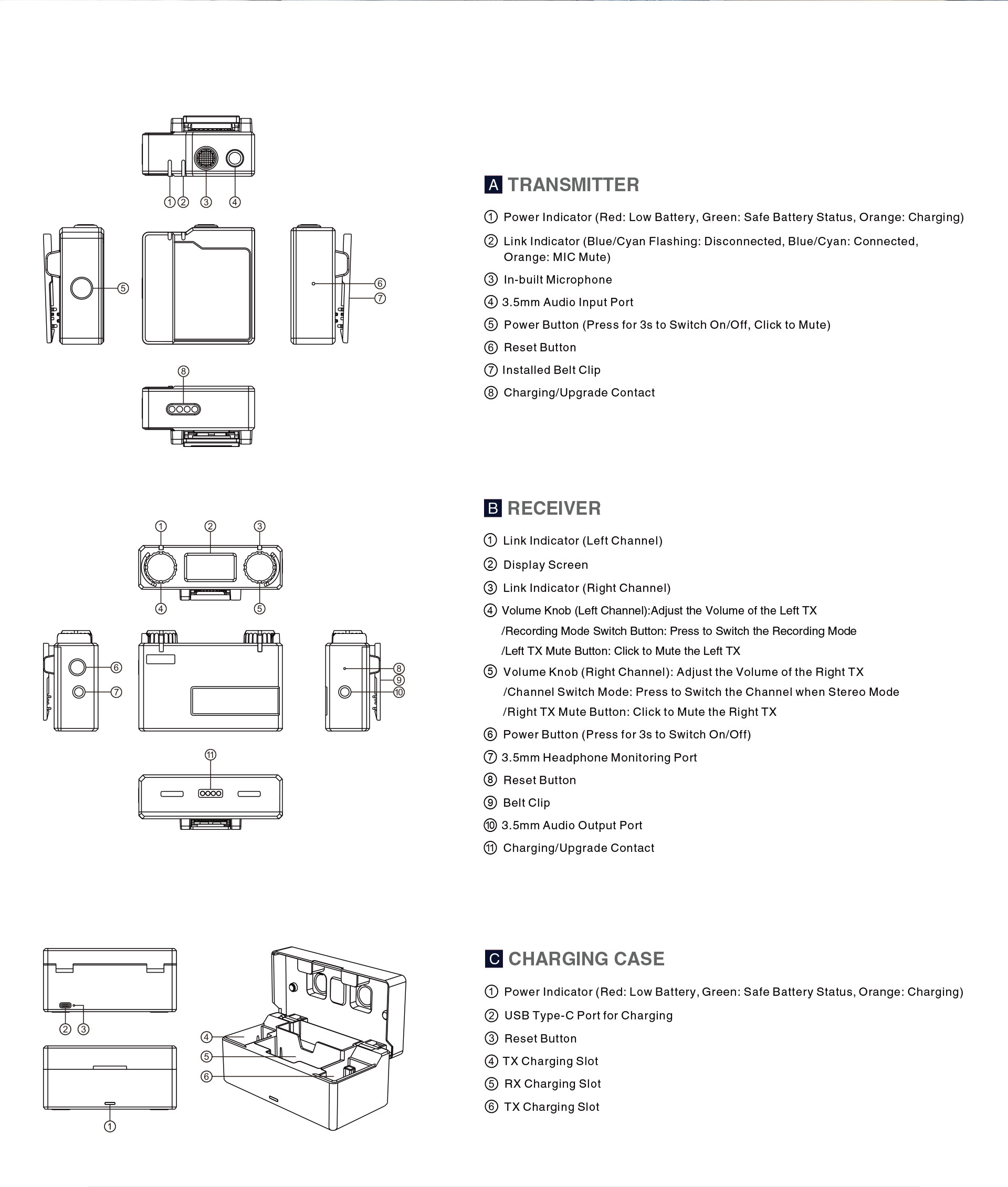 WHAT'S INCLUDED